THIS WOULD BE FUNNY IF IT WEREN'T SO SAD
Cops try to help man fix flat; man asphyxiates while trying to conceal
a bag of weed.
**********
A POX ON ALL YOUR HOUSES
okay, that's not funny either. Brazilian car thieves make off with vials of
cholera and thyhoid.
**********
LET THIS BE A WARNING TO - SOMEBODY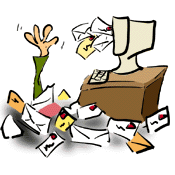 San Francisco man out on bond in spam rage case. The computer programmer took exception to being harassed by penile enhancement spam (I know how he feels, just imagine, I don't even have one), threatening to
torture and kill
those responsible. Okay, he may have gone a bit far with that.