KITTY O.C.D.
Klepto kiwi kitty
gets cover of National Geographic.
**********
HIM or HIM?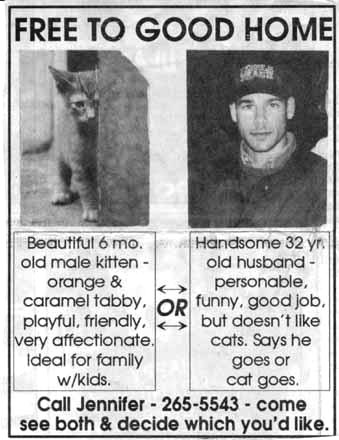 Hmmmm, 'dunno, I'm torn; but I'd like to know how it turned out.
**********
THE FASCISTS HAVE GONE TOO FAR
Things are bad when even cats have to worry about being black. Kooshi (How could you hate anything named Kooshi?) has been banned from the stairwell of his Isreali housing complex over
fears of bad mojo.
**********
LET THIS BE A WARNING TO YOU MEN OUT THERE
Pissed off girlfriend bites
"large part"
of boyfriend's tongue off in kiss gone way, way, wrong.
**********
TRAVEL ALERT!
When in Australia beware the
brush turkey!
and
When in New York City,
beware balloon popping,
and enjoy the
extra public lavs.