MURALI MUST CHUCK THE DOOSRA
The
International Cricket Council
has effectively outlawed Sri Lankan
Muttiah Muralitharan
's much maligned doosra delivery.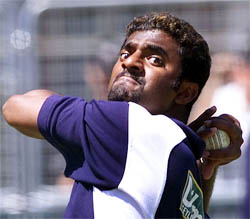 "...confirming that they are not about to increase the permitted five-degree tolerance level for spin bowlers to accommodate Muralitharan, and warned that he risks being reported and possibly banned if he continues to use the delivery."
Heh, now things really get interesting.
SAY WHAT?
Talk about cojones.
"A WOMAN posing as a military officer conned her way onto a British airforce base and lived there undetected for five months, even running up a large bar bill, a report said."
GENERAL SILLINESS
Memory aides by Dribbleglass.com
CRINGE WORTHY
Presenting
the worst songs ever
, according to
Blender
magazine; starting with the incomprehensible "We Built This city":-
We Built This City - Starship, 1985


Achy Breaky Heart - Billy Ray Cyrus, 1992


Everybody Have Fun Tonight - Wang Chung, 1986


Rollin' - Limpbizkit, 2000


Ice Ice Baby - Vanilla Ice, 1990


The Heart of Rock & Roll - Huey Lewis & The News, 1984


Don't Worry, Be Happy - Bobby McFerrin, 1988


Party All the Time - Eddie Murphy, 1985


American Life - Madonna, 2003


Ebony and Ivory - Paul McCartney, Stevie Wonder, 1982


I admit to thoroughly enjoying at least 2 songs on that list, and getting smacked in the head over a third.
CLICKEZ ICI
Create your own
South Park
character. (Link by way of the
green ape
)