SAY WHAT?
SOAPBOX
Simon Cowell:"This is what happens when you leave the decision up to America."
Okay, granted Simon (psst, I still available) Cowell wasn't referring to Bush, but the principle applies. For more Cowell bon mots,
CLICKEZ ICI.
'TIL DEATH DO US PART...
...especially if I
mistakenly pump 4 bullets
into you.
NOOKY HANDBOOK - Helpful Hints
10 Steps to Caring Dominance
Excerpt (No I'm not going to put the whole thing here.
This Blog is a nice blog
, besides, this Blog's mother knows the URL)-
Understand your relationship with your bottom.


Discover your bottom's needs.


Discover your needs with your bottom.


Establish boundaries with your submissive.


Understand the difference between dominance and control.
CLICKEZ ICI
Simon Tyszko?s
Suicide Bomber Barbie: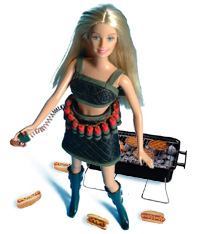 "Suicide Bomber Barbie" conflates Western commodification with Palestinian desperation. Religious and capitalist dogmas struggle within Barbie?s idealised form, in an artwork of potent incongruity."
Uh - right. What they said.