SOAPBOX
Dallas Federal Bank President
Robert McTeer waxes poetic:
There once was an economy on the ropes
That kept dashing our recovery hopes
When we made the concession
To call it a recession
It turned up, and we felt like dopes
**********
NEW BLOGGING SURVEY
Swiss student, Daniel Jorg is conducting a survey on the feeding habits of bloggers. Well no, not really; but it's important, only takes five minutes to complete, and could yeild some useful data, so help him out would you?
Take The Survey
**********
NOOKY HANDBOOK - tech update
Taiwanese
vibrating condom
unveiled at Swiss trade show. Hmmmm. The concept seems to already be
a hit in Japan.
**********
CLICKEZ ICI
Susan Weil: Ear's Eye For James Joyce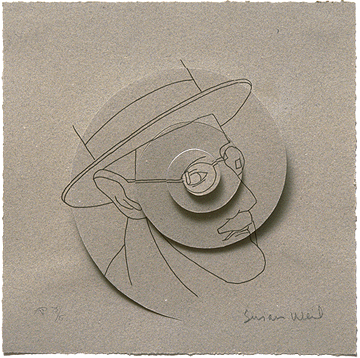 JOYCE INSPIRALLED - Etching with Spiral Cut, by Susan Weil