SOAPBOX
This Blog has taken the
World's Smallest Political Quiz
and been typed.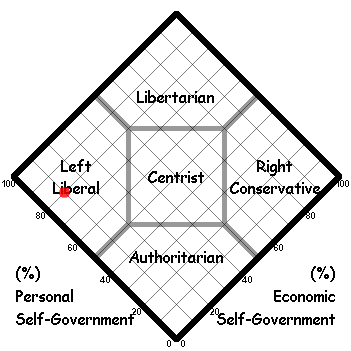 Left-Liberals prefer self-government in personal matters and central decision-making on economics. They want government to serve the disadvantaged in the name of fairness. Leftists tolerate social diversity, but work for economic equality.
So I guess that makes me a commie pinko.
*
NOOKY HANDBOOKQuestion:
How comfortable can it be,
To do the nasty up a tree?
"Two gay lovers took off most of their clothes, climbed up a tree in New York's Central Park and spent four hours engaging in sex acts and yelling abuse at police and firefighters."
*
FROM THE GENDER RELATIONS DESK
Attention foot fetishists! Careful how you get your fix. California man charged with sexual battery.
"Scheremeta offered several women a chance to participate in a foot survey. Scheremeta told the victims to look away during a foot massage after which he allegedly rubbed his crotch against their feet."
*
TALES OF THE MACABRE
Tamale chef
busted simmering remains of drinking buddy.
*
CLICKEZ ICI
Photography by Andrew Penn